Property Management
High level, personalized service backed by generations of experience!
Tobin Properties is a full-service commercial property management company. Since 1926, Tobin Properties and its affiliated companies have excelled at developing, managing, and supporting commercial real estate properties. We pride ourselves in going above and beyond the industry standards, and providing high-quality service to all of our clients. Named one of only 1,145 Accredited Management Organizations (AMO)® worldwide, Tobin Properties abides by a rigorous code of professional ethics strictly enforced by the Institute of Real Estate Management.
At Tobin Properties, we take a full-service, hands-on approach to property management and back it up with prompt responsiveness and accessibility. This winning combination has made Tobin Properties a leader in the industry for decades. As owners and managers ourselves, we have a unique knowledge of commercial real estate, and this Owner's Perspective™ motivates us to view and manage your property as if it were one of our own. Whether your need is management, construction, real estate & brokerage, or leasing, – a Tobin Properties professional will provide a solution that will satisfy you. Whatever your need may be, Tobin Properties can provide the service with its own staff, ensuring a quality and timely result. Throughout the years, we have built strong relationships with clients in a variety of industries, and are always glad to connect others with these valuable resources. We exceed our client's needs by managing projects and applying our Tobin philosophy, everything we do for others, we do from the Owner's Perspective™.
When our experienced property management team takes care of the day-to-day details of managing your commercial property, you can be confident that your investment is well-managed and achieving maximum value. We have a licensed Certified Property Manager (CPM), a Certified Public Accountant (CPA), a Certified Commercial Investment Manager (CCIM), Certified General and Building Contractor (CGC) (CBC) and Senior Commercial Leasing Specialists (SCLS) on staff and readily available.
Our real estate, construction and accounting experts are committed to keeping your life simple, your costs down and your property value up. Utilizing the resources we've developed over the years, we are able to secure competitive bids from vendors and can assist you in the budgeting process.
As a full-service property management company, we offer the following commercial services customized to address each property's unique needs:
Property Management
Leasing
General Contracting
Construction Management
Acquisition and Development
Accounting & Financial Management
Real Estate Brokerage
Additionally, we offer the following value-added services to our commercial clients:
Accessibility – At Tobin Properties, we have made it our hallmark to make ourselves readily accessible to property owners. We are never "off the clock." We guarantee that we will respond within 24 hours. A property manager is always on-call to answer questions.
Tenant and Owner Relationships – We take pride in the relationships we build with the tenants of the properties we manage. Because of these relationships, we are able to oversee the notification, collection and recording of tenant payments efficiently and, if necessary, follow up on late payments with diligence and discretion.
To ensure tenant satisfaction with completed service requests, we follow up via mail, email or personal calls to secure feedback on our work. This has enabled us to develop systems and best practices to ensure that our service always exceeds the highest standards.
Visual Inspections – Members of our management team conduct proactive inspections – seeing things through the owner's eyes – of our clients' properties to visually assess what changes or improvements are needed. This standard of excellence – another hallmark of Tobin Properties – has contributed greatly to our track record of success.
Maintenance & Update Recommendations – We welcome the opportunity to help you control costs while optimizing your property's value through updates and improvements, and we have contractors and construction professionals available to discuss your project at any stage in the process.
Additionally, we can help you make informed decisions about property maintenance by providing a deferred maintenance plan including photos, recommendations, estimates and proposals, so you can be absolutely confident that your decision is the right one and the appropriate action is being taken.
Lease Negotiations – Our Senior Certified Leasing Specialists (SCLS) have negotiated millions of square feet of leases for hundreds of clients and the experience has produced a strong but fair lease form that continually benefits our clients. We educate our clients on where their space fits within the competitive marketplace and evaluate the strength of their position. We have sophisticated lease documents which cover most states and situations. Then, we factor in the cost and downtime of replacing the tenant to determine the best terms.
Call us today to schedule an appointment 888-236-8624, or to learn more about Tobin's property management services click here.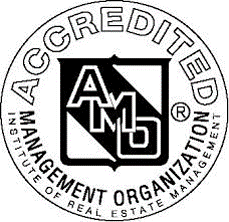 The Owners PerspectiveTM
The AMO® accreditation is the mark of distinction AMO® real estate management firms. A firm must demonstrate the highest standards of professionalism, financial performance and ethics to earn the AMO® accreditation from the Institute of Real Estate Management (IREM®). Partner with a firm that will deliver maximum results.
Vast Experience. Half of all AMO® firms have been in business for over 25 years and over 80 percent have been established for over 15 years. This vast experience means that AMO® firms are the most knowledgeable experts about the unique needs of your property and the local market. Collectively, AMO® firms manage over $123 billion in real estate assets. They manage approximately 1 million residential units and over 550 million square feet of commercial space. Rely on the expertise and capabilities of an AMO® firm to capitalize on your property's potential.
Financial Responsibility. Every firm that applies for the AMO® accreditation is subject to a financial review. Only firms that demonstrate financial stability and integrity can earn the AMO® accreditation.
Outstanding Leadership. Every AMO® firm has an Executive Certified Property Manager® (CPM®) directing and supervising all real estate management activities. Renowned industry-wide as the most prestigious real estate management credential, the CPM designation is only awarded to those who meet the Institute's strict criteria in professional education, examination, experience and ethics.
Integrity and Ethics. AMO® firms must adhere to the AMO® Code of Professional Ethics which is strictly enforced by IREM, or risk losing their accreditation. The code regulates the firm's relationship with you as an owner or investor and requires AMO® firms to use the utmost care in promotional and operational procedures. You can rest assured that an AMO® firm will abide by the highest ethical standards and safeguard your investment.